The first e-commerce dedicated to professional product photography
A new, revolutionary, Italian entrepreneurial reality that combines the value of professional photography with new digital technological potential. 1PHOTO is a company, a project, a mission. A challenge that eradicates the clichés of the old profession and proposes a new working method. A more productive, more effective and more suitable method for the new trends in professional digital photography.
Let's redesign the future
Communication - both online and traditional in print - is mainly based on visual attraction, on the advertising principle of "what attracts, likes and sells". 1PHOTO was born from the increasingly important need to provide high quality still-life, in the shortest possible time, to be used on all media: e-commerce, websites, brochures, catalogs ...
A worthy work
Through precise logistics systems, pre-set sets and automated procedures, we were able to study and test a new formula that allows anyone to send us their products and to choose, through our e-commerce, all the characteristics of the professional shots of he needs: from the shots, to the contours, to the shadows.
How does 1PHOTO work? Find out here.
We and you
1PHOTO is mainly aimed as a "partner" to web agencies, graphic studios, advertising and communication agencies, printers, photographic studios and individual professionals who - for various reasons - are unable to produce numerous stills independently, at competitive prices and in a short time. -high quality life for the fields of fashion, food, furniture, luxury and design.
Our automated procedures allow us to streamline the costs and times that until now were necessary in traditional photography to set up different photographic sets, lights and backdrops for each product from time to time.
More than a profession, a real mission
First of all, 1PHOTO is a team of professionals who love to do their job well. The twenty years of experience that binds us in the field of photography makes each of us a fundamental piece for the success of each individual project. This is why we never stop imagining and reinventing the future, updating ourselves, shaping our knowledge based on market demands and new digital technological means. This is why 1PHOTO was born.
"We grew up photographing, now we photograph to make you grow"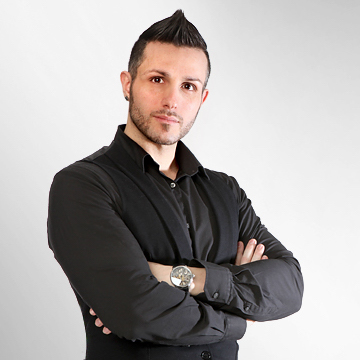 Patrizio Luceri
Co-Founder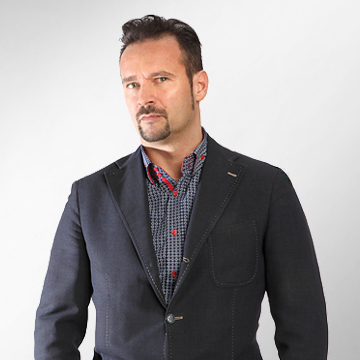 Stefano Gianesello
Co-Founder